Amended hotel plans for Plymouth's Drake's Island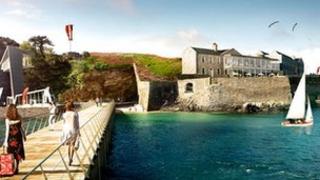 Former Plymouth Argyle chairman Dan McCauley is trying for a third time to get permission to build a boutique hotel, bar and restaurant in Plymouth.
Last year plans, submitted by his company Rotolok Holdings for Drake's Island in Plymouth Sound were rejected by city councillors.
They said the application failed to provide details on how the island's wildlife could be affected.
The plans also include a refurbished jetty to allow greater public access.
Drake's Island, which was bought by the Tiverton-based businessman, covers about six acres and contains military barracks and buildings from the Napoleonic era.
In 2003, he applied for permission to build a hotel, leisure complex and helipad, but that was also rejected by planners.
Mr McCauley's son, Aidan, said the team behind the plans had worked hard to address the reasons for last year's refusal.
"Whilst the site provides many challenges, especially of a heritage and ecological aspect, we have received clear guidance and worked up our plans in liaison with officers at Plymouth City Council, Natural England and English Heritage," he said in a statement.
He said the new application provided an "excellent solution and opportunity" to facilitate the restoration of the island.
"We believe we have created an exciting yet sensitive project," he added.
The amended application has been welcomed by Charles Howeson, chairman of the Plymouth Area Business Council.
There will be a statutory 16-week consultation period before the application is considered by the council's planning committee.
A decision is due at a meeting in May.