Plymouth Argyle Home Park grandstand delay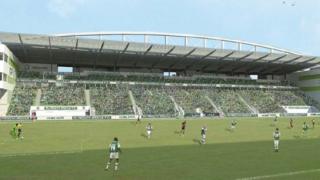 A new grandstand at Plymouth Argyle's football ground may not be ready for another 18 months, the club's owner has confirmed.
Plans for the 4,800-seat stand are part of James Brent's £50m redevelopment of Home Park.
It was initially hoped work on the stand might begin in the autumn. However, that is now unlikely.
Mr Brent's plans include a 10-screen cinema, ice rink, hotel, medical centre and shops or restaurants.
His company Akkeron is currently in negotiations with investors interested in providing finance for the development.
Mr Brent told BBC News: "We're always disappointed with a delay, but we're looking at a complex programme of works, with 75 different packages.
"We were perhaps too ambitious at the start - but a delay of two to three months in starting does not worry me."