Torbay Council approves £22m cut from budget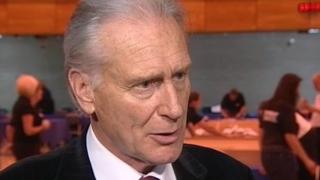 Budget cuts of £22m have been approved by Torbay Council.
Among the areas to be cut over the next two years will be support for the vulnerable and the scrapping of the mobile library service, a move users described as "absolutely ridiculous".
The mayor of the Tory-led authority, Gordon Oliver, said government funding cuts meant he had no choice.
England's councils were facing an average spending cut of 2.9% in 2014-15 alone, the government said in December.
Cuts will be made to sheltered housing for vulnerable people, to groups that support elderly people to help them remain in their own homes and to Torbay Pluss, which helps people with learning difficulties.
Mark Hodges, of Torbay Pluss, said the situation was "utterly horrendous" but vowed "the fight is not over".
Mr Oliver said he wanted to have a meeting with Pluss to seek a way forward.
BBC Radio Devon's Jenny Kumah described it as "probably one of the most emotionally charged council meetings I've ever been to".
The opposition requested several amendments including:
To use an underspend of £750,000 from the adult services budget to help towards vulnerable groups. The council rejected it and said the money had already been allocated elsewhere
To conduct a sustainability review into the £600,000 spent to subsidise the Riviera International Conference Centre. The council said any suggestion of reviews or closures would affect future bookings and so would impact on revenue
To defer a decision on scrapping Torbay's mobile library service until next year. The amendment was defeated, with the possibility of volunteers taking books to people being suggested
The authority has to decide where a further £3.8m savings will be made for 2015-16.
Mr Oliver said: "If we had a choice we wouldn't have made any of these cuts. The coalition has made this situation difficult for us.
"We understand the reason why. The money isn't in our economy."