Motion for fraudster Kevin Wilson resignation approved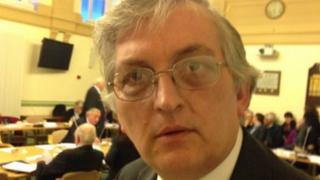 A councillor convicted of benefit fraud should resign, his council colleagues have said.
Kevin Wilson, of Tiverton, was given a 10-week suspended jail sentence earlier this month for swindling housing and council tax benefits of nearly £4,000
Because the sentence was less than three months, the 55-year-old councillor cannot be forced out.
However, a meeting of Mid Devon District Council approved a motion calling on him to resign.
Wilson has not yet commented.
Trust 'betrayed'
The motion, condemning Wilson's conduct, was proposed by Councillor Colin Slade.
He said his colleague's actions could not be condoned and in calling for Wilson to "do the decent thing and resign", he was echoing the wishes of some of his constituents.
"When you're in public office in a position of trust and you betray that trust, then really you have to look to your own actions and take the honourable course," Mr Slade told BBC News.
However, Councillor Des Hannon said, despite the motion, the decision was now with Wilson,
"I know it's not going to earn me any popularity points, but a court of law has decided what should happen," he said.
"After that it's up to Kevin - it's certainly not up to other councillors nor to council officers to say what happens to him.
"The next election is about this time next year and at that time it'll be up to the electorate."