Exeter incinerator 'sounds like Red Arrows'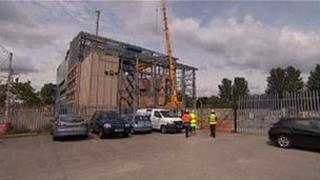 Builders have apologised for a loud noise coming from an incinerator which people say sounds like the Red Arrows RAF aerobatics team.
Terry Griffin, who lives nearby, said the noise coming from the plant being built in Exeter lasts up to 15 minutes several times a day.
Ian Crummack from builders TIRU blamed cleaning of steam pipes connected to the boiler.
He said modifications would be made to reduce the disturbance.
'Jet engine'
The plant on the Marsh Barton trading estate will process waste from across east Devon from later in the year.
Mr Griffin said: "The noise is like having an aeroplane flying over at about 1,000ft. It sounds literally like a jet engine going overhead."
Deirdre Strawbridge, who lives about two miles from the site, said: "It sounds like the Red Arrows are coming up and just about to pass over your head."
Both residents said they could hear the noise through double glazed windows.
'One-off'
Mr Crummack, from the company constructing the plant for Viridor, said: "The noise comes from cleaning the steam pipes before we switch on the boiler.
"This has to be done because we don't want any dust or grit getting into the sensitive equipment.
"It's an operation we only do once, it's not part of the normal operating procedure of the plant."
He added: "We are sorry the noise is much louder than anticipated."
Work had been suspended until next week to allow modifications to be made.
The cleaning work is expected to be completed by 13 March.