Storm-hit Torcross residents helped by Start Bay Inn staff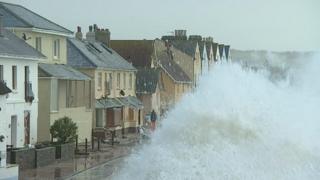 The landlord of a Devon pub and his staff have been praised for helping residents in a storm-hit village.
As the storm battered seafront homes in Torcross, staff deserted their posts at the Start Bay Inn to help local people protect their homes.
"I left a couple of them brushing sea water out the kitchen and took the others with me," Alan Jones said.
As well as boarding up windows, the landlord helped resident Bill Marsh, who was swept off his feet by a wave.
'Surreal' experience
Mr Marsh, a former coastguard, suffered a fractured wrist.
He said he was trying to protect his home as massive waves broke over the sea defences, taking out windows and causing structural damage.
"Alan was trying to drag me back and telling me 'come on Bill, leave it - it's not worth it - don't take the risk, you're supposed to know better than that'," Mr Marsh said.
Mr Marsh said the landlord and his team "did a great job".
However, Mr Jones said it was just about getting things done.
"When I realised how bad things were getting, I left one of the customers in charge of the bar, so we could get out there and help," he said.
"There was no time to think about being scared, so we just had to get on with it," Mr Jones said.
"One minute Bill was there, then the next he was literally swept off his feet and flung against the wall.
"It was very surreal - almost like a movie scene - there was furniture, wood and window frames floating past and out across the road."
Mr Jones said he then went on to "commandeer" whatever materials he could find to board up homes, including some discarded plywood and building materials from a skip at a holiday home that was being refurbished.
"You just do what you can, but at the end of the day you have to be in awe of the power of the sea," he added.