Tesco lorry bungalow crash 'sounded like explosion'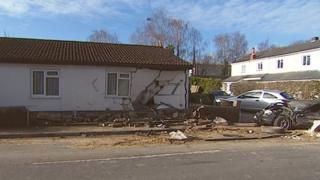 A man who was sleeping in a bungalow which was severely damaged when a lorry hit five vehicles, sending one crashing into the building, said it sounded like an explosion.
Eamonn O'Keeffe said the wall of his home at Old Newton Road, Heathfield, Devon, would have to be knocked down following the crash early on Saturday.
The lorry also ploughed through a garden and brought down power lines.
Mr O'Keeffe said the damage was "worse than he expected".
The Tesco lorry crashed into the vehicles at about 03:25 GMT and Mr O'Keeffe said he heard an "almighty bang".
"My wife looked out of the window and said 'oh my, somebody has gone into the vehicles'.
"We didn't realise the extent of the damage until we had come out of the bedroom.
"We went into the lounge and realised that one vehicle had actually gone into the side of the building and taken out the end wall of the lounge."
Mr O'Keeffe said the lorry had caused "one hell of a mess".
"When we came out on to the driveway we saw that the truck had taken three vehicles right along the road and written them all off.
"The lorry has also taken out my next door neighbour's car and pushed another vehicle right the way down the road into a garden and destroyed a conifer hedge.
"It's somewhat worse than I first anticipated, but thankfully no-one was hurt", he said.
Rachel Ward, whose car was damaged by the lorry, said: "There was a big bang and we thought something had blown-up... it's crazy, the cars are trashed.
"We did not expect to see a lorry in the garden... it's unbelievable."
A Tesco spokesperson said: "We are relieved that no-one was hurt during the incident. We will be assisting the police with their inquiries."