Hallsands road repairs for storm-hit village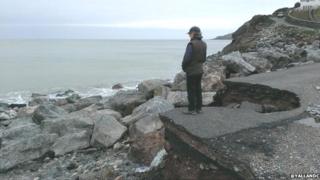 Residents of a storm-hit coastal hamlet have been told their beach side road will be repaired.
The road and sea defences in North Hallsands were wrecked by the recent storms and local people feared they would have to pay to repair the damage.
But, Devon County Council has told them that it will repair the road, described as a "small victory" by residents.
The pledge was made despite the fact the area was designated for no-intervention by the Environment Agency.
The old village of Hallsands was destroyed by storms in 1917 and residents fear the same thing could happen again to North Hallsands.
Resident David Marcer said: "Our real aim is to have the various local and national authorities admit to and then accept their responsibilities for sea defences.
"If they don't Hallsands will eventually go the same way as the old village did almost 100 years ago."