Agatha Christie charity sea swim for Sport Relief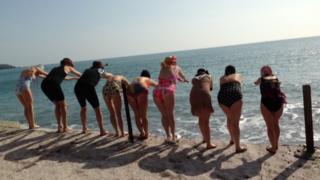 One of Agatha Christies's favourite sea swims has been recreated off the Devon coast to raise money for Sport Relief.
The swim from Meadfoot Beach, Torquay, out to Shag Rock, was organised by Sophie Pierce, of BBC Devon.
Agatha Christie, who grew up in Torquay and had a home at Greenway near Paignton, was a keen outdoor swimmer all her life.
Sport Relief is a biennial event, held to raise money to help young people in the UK and abroad.
The theme of the 2014 event, which culminates with a BBC television fundraising programme on 21 March, is running, swimming and cycling.
Despite a sea temperature of 10C (50F), the swimmers said conditions in Torbay were "ideal".
"I know it might seem bonkers to most people, but I just love getting into the sea all year round because I find it so invigorating," said journalist Ms Pierce.
"I happened to be reading a book about Agatha Christie and it said one of her favourite swims as a girl was off Meadfoot beach in Torquay, when she used to swim out to Shag Rock.
"So I got the idea of recreating the swim with some of my friends in aid of Sport Relief."
Agatha Christie bought Greenway House in 1938 and although she never wrote any of her books there, it became a summer home and a retreat for her until her death in 1976.
According to the National Trust, which now owns Greenway, the novelist described it as "the loveliest place in the world".