Old pleasure boat damaged in a fire on the Dart Estuary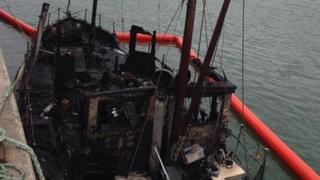 A pleasure boat built nearly 70 years ago has been damaged in a fire on an estuary in Devon.
Firefighters spent the night tackling the fire on the African Queen in the Dart Estuary at Dartmouth.
A fire swept through the 51ft (15.5m) charter vessel moored on a pontoon in the middle of the estuary.
Dartmouth fire crews were transported to the fire by the Dartmouth Lower Ferry after being called to the scene at 23.30 GMT.
Rob Giles, Dartmouth's harbourmaster, said: "[The fire] was pretty nasty and after about an hour-and-a-half of fighting the fire, it kept re-igniting. It had 700 litres of diesel on board and it's a wooden vessel.
"We have since dipped the tanks. There is no pollution risk and nobody was hurt."
• This story was amended on 11/03/14 after an earlier version incorrectly reported that the ship took part in the Dunkirk evacuation during World War Two.