Nuclear submarine HMS Tireless refused United Arab Emirates entry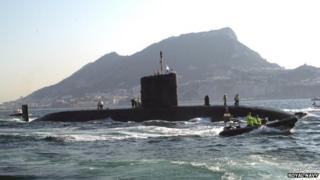 A nuclear submarine had to be diverted to India after it was refused entry to the United Arab Emirates (UAE).
It is understood Plymouth-based HMS Tireless sat in international waters for more than a week while a replacement crew waited in the port.
Families of those on board who travelled to meet the crew had to return to the UK without seeing them.
The Royal Navy said it was only a "delay" and "not a safety issue". UAE authorities have not commented.
A week after the vessel was not given clearance, a decision was taken to dock in Goa.
Some families are understood to be seeking compensation for the cost of flights and a week of accommodation while in the UAE.
The Royal Navy said: "We do not discuss submarine movements for reasons of security.
"However, I can confirm that HMS Tireless's visit programme in the Gulf of Oman was delayed. We do not routinely comment on submarine operations so we are unable to discuss the detail, although we can confirm it was not a safety issue.
"A small number of families did travel to the region at their own expense in anticipation of the visit. They were kept informed of the situation by local Royal Navy personnel ashore."
The Foreign and Commonwealth Office denied there were any diplomatic issues between the UK and the UAE.
It said: "The UK has a long history of co-operation and friendship with the UAE.
"We maintain regular contact at the most senior levels and work together on shared interests and security challenges across the region."
In 2011, 30-year-old HMS Tireless spent 10 months on deployment to the Middle East.