Couple and dog escape from River Dart boat fire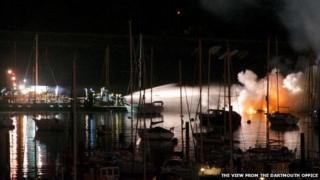 Two people and a dog have escaped from a fire which destroyed their boat at Kingswear on the River Dart.
For the second time in a week, fire crews had to use the Dartmouth lower ferry to tackle the blaze.
The fire on the 25ft (7m) Bayliner started just after 23:00 GMT, Devon and Somerset Fire and Rescue Service said.
The couple were treated on shore by paramedics, before being taken to hospital as a precaution. They are not thought to have been seriously hurt.
Andy Callan, crew manager at Dartmouth fire station, said when crews arrived on the scene there was a dense smoke plume and the boat, Blue Storm, was "burning ferociously from end to end".
"It was very dramatic - you could see it from afar and the whole of Dartmouth was looking at it," he said.
When the RNLI's Dart inshore lifeboat was taking the fire officer on to the river to assess the blaze, liquid petroleum gas cylinders aboard Blue Storm exploded.
The lower ferry was then used to take a fire engine out to tackle the blaze and prevent it burning through the mooring line.
"If it had done that, [the boat] would have started to float down the river," Mr Callan said.
On Monday night a fire destroyed the 51ft (15.5m) charter vessel African Queen when it was moored on a pontoon in the middle of the estuary.
"I've been in the service in Dartmouth for 12 years and I've never had a boat fire until this week - now I've had two and it's been a real eye opener," Mr Callan said.
However, the fires have not been linked and the fire service believes both were accidental.