Bruton's Tyrosine Kinase drug trial offers cancer hope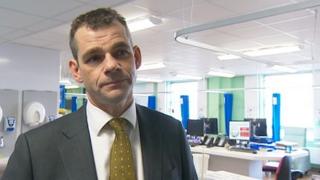 A cancer drug which clinicians hope can prolong the lives of terminally ill cancer patients has been trialled for the first time, a hospital trust says.
The trial, in Plymouth, is testing drugs called Bruton's Tyrosine Kinase (BTK) inhibitors to target the severest forms of leukaemia and lymphoma.
Prof Simon Rule, who led the study into the new class of drug, said it meant a "transformation" in treatment.
The trial began in the city in 2012 and has since extended worldwide.
The National Institute for Health and Clinical Excellence (NICE), which guides NHS trusts on treatments, declined to comment.
Dr Kat Arney, Cancer Research UK's science communications manager, said: "This new study is very small and the results haven't yet been fully published in the scientific literature, so it's too early to say how effective this specific drug might be.
"Other drugs that block Bruton's Tyrosine Kinase are already showing promise in clinical trials and could be useful in the future for treating people with leukaemia and lymphoma."
Prof Rule, a consultant haematologist at Plymouth Hospitals NHS Trust, has been involved at the trial at Derriford Hospital and also carried out research at Plymouth University.
"The astonishing thing about these drugs is that they have virtually no side effects, which is unprecedented from my experience. In some patients the effects are immediate," he said.
"Patients with lots of symptoms, particularly those with lymphoma, will feel better the next day after taking the medication," he added.
Prof Rule said the tablet-based drugs, which are produced in Japan, targeted the signalling pathways of a cell.
"For the abnormal cells to survive they have to constantly tell themselves to live. If you interrupt the pathway, they die," he explained.
He added that normal cells were not dependent on this and it was specific to the cancerous cells.
'Fighting fit'
Plymouth Hospitals NHS Trust said the first four patients in the world to receive this drug were treated in the city as part of the trial, which started in September 2012.
Since then, more than 30 patients worldwide have received treatment, it added.
Prof Rule said the response rate to the drug was close to 100%.
David Hodge, 74, from Plymouth, has suffered chronic lymphocytic leukaemia for 17 years.
Prior to starting the trial in September 2012, Mr Hodge had been given only months to live. His immune system was not functioning and becoming resistant to all other treatments.
Mr Hodge, who takes the medication every morning, said: "I'm fighting fit. I've had no problems, no side effects, nothing.
"I think with any new trial or drug, or with chemotherapy, there's a little bit of trepidation.
"I just felt, even if it proves at this moment, to be of little use to me; I trust that with fine tuning it will prove to be significant to those taking the drug later on."