Sevres plate and teapot discovered in Devon home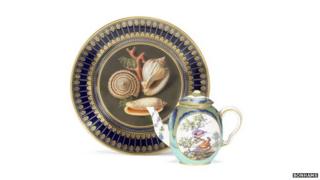 A rare and valuable French Sevres ceramic plate and teapot have been discovered in a Devon home while the owner was moving house.
The 350-year-old pieces, valued at £8,000 to £10,000, will be auctioned at a European ceramics sale in London.
Both items have been confirmed as Sevres and date from about 1765.
Sam Tuke, from Bonhams auction house, said the Exeter owner inherited the items but did not know the value of either of them.
Mr Tuke visited the home as the owner, who has not been identified, wanted a collection of Chinese porcelain valued, but instead Mr Tuke found another treasure.
He said: "I ended up doing a total contents valuation and spotted the Sevres teapot on the client's pine dresser in the kitchen.
"It turned out that I'd found a rather special Sevres teapot with a very unusual colour. On looking around some more I also found a Sevres plate that was shown at the Great Exhibition in 1851.
"The client had inherited the teapot and plate but had no idea that either of them might be valuable. She just thought them rather pretty, which they certainly are."
The teapot and plate were examined by Bonhams head of European ceramics, Sebastian Kuhn, who confirmed that both items were rare Sevres pieces.
There is only one other known saucer and milk jug in this style known to have survived which sold for $25,000 (£15,000) in New York.
Bonhams auction house said Madame De Pompadour, the mistress of French King Louis XV, loved Sevres porcelain and was responsible for its development and manufacture.