'Drunk' Plymouth woman Angela Douglas 'suffocated mother'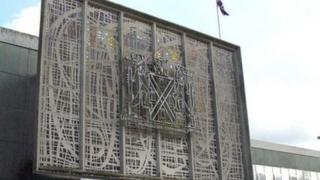 A drunk woman suffocated her mother with a pillow in a mercy killing, a court heard.
Angela Douglas, 49, of Redhill Close, Plymouth, attacked Anne Matthews in the 73-year-old's home, Plymouth Crown Court was told.
A doctor told the court that Mrs Matthews suffered from emphysema, but "was not expected to die imminently".
The court heard that Ms Douglas, her mother's main carer, was stressed. She denies murder.
Ms Douglas carried out the attack at her parents' Plymouth home on a Sunday last April after drinking two-and-half bottles of wine, the court heard.
She told police: "I just thought, 'Put a pillow over her face and she will go to sleep.'
"'She will not know anything. If she went to sleep she would not be in pain anymore.'"
Her father Dave Matthews heard "hysterical screams" and ran upstairs to find his wife on the floor and Ms Douglas phoning for an ambulance.
Mrs Matthews died early the next day in Derriford Hospital, Plymouth.
Mr Matthews said his wife had become very poorly with emphysema in the last couple of months of her life and was going "slowly downhill".
He said Ms Douglas, his eldest daughter, drank a lot when she was stressed.
The trial continues.