Devon horseshoe bats protection project gets £750K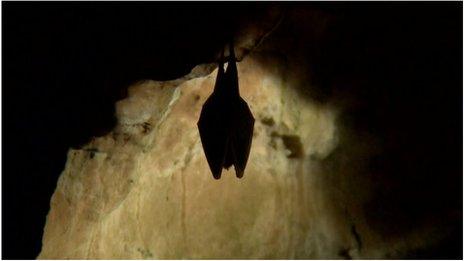 Conservationists have been awarded £750,000 to help protect a rare colony of bats in Devon.
The horseshoe bat populations are among the last in northern Europe, says the county's wildlife trust.
But they are at risk because they are losing their habitats, man-made structures including former quarry caves and barns, to development.
Devon Wildlife Trust secured funding from the Heritage Lottery Fund for the Greater Horseshoe Bat Partnership.
Devon has 11 horseshoe bat roosts in locations including Braunton, Buckfastleigh and the Tamar Valley.
But British populations of horseshoe bats have fallen by 90% in the last century, said the trust's Peter Burgess.
"Funding will allow us to support local farmers to farm in more 'bat friendly' ways, helping to maintain vital bat feeding areas and flight corridors," he said.
"It's also going to allow us to work with local communities to help everyone to find out more about the bats, and enable them to contribute to the project and gain a sense of pride in their local bats.
"With hundreds of local people involved, bats stand a better chance of thriving."
Related Internet Links
The BBC is not responsible for the content of external sites.