Part-time street lighting for two residential areas of Exeter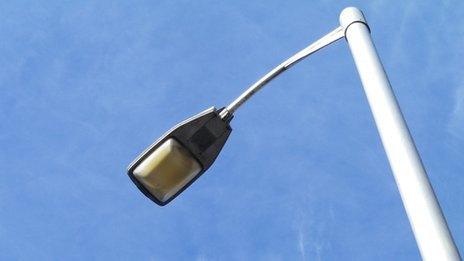 Some street lights in a Devon city will be switched off at night to help save money and cut carbon emissions, a local authority says.
Devon County Council said 1,000 street lights would be switched off at night in Exeter.
The lights will go out in Cowick and Alphington at 00:30 BST and come back on again at 05:30.
The council is responsible for nearly 77,000 street lights, which cost £3.4m in electricity.
Lighting on main roads and busiest routes in the city would remain unchanged, the council said.
Councillor Stuart Hughes, the cabinet member for highways, said: "The changes will help cut carbon emissions and costs.
"At the outset, we set a target to save 4,000 tonnes of carbon from these changes, and that has already been achieved."
The University of Exeter Students' Guild said: "The money being saved is at extreme detriment to safety."
Related Internet Links
The BBC is not responsible for the content of external sites.