Nun, 79, creates huge Buckfast Abbey mural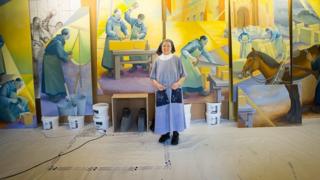 A 79-year-old nun's huge mural of the rebuilding of a Devon abbey's church will be unveiled later.
The work, which measures 26ft (7.9m) by 18ft (5.4m), has been painted by Mother Joanna Jamieson, former Abbess of Stanbrook Abbey in Worcestershire,
Buckfast Abbey church of St Mary's, which was rebuilt by the monks, is getting a makeover to mark the abbey's millennium in 2018.
The mural shows the monks rebuilding the abbey church between 1907 and 1939.
Photographs taken at the time show them toiling in their robes without a safety hard hat in sight.
Mother Joanna, who trained at Glasgow School of Art, used photos from the abbey's archives which show the monks hammering, chiselling and hauling loads of masonry to create the mural.
Lead workers, stonemasons, coppersmiths, glaziers and conservators have been renovating the church, which is the centrepiece of the 11th Century Buckfast Abbey.
The mural will be unveiled on behalf of Buckfast Abbey by Catherine Goodman, the artistic director of the Prince's Drawing School in Hoxton, London.