Devon and Cornwall 'need to make case' for rail investment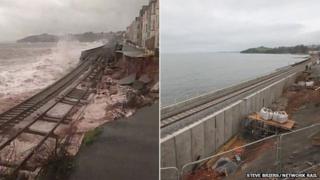 Officials in Devon and Cornwall need to do more to explain why they need investment in the rail network, according to a transport expert.
The main railway line through Dawlish in Devon reopened on Friday after part of the track was destroyed during winter storms.
Greg Marsden, Director of the Institute for Transport Studies, is calculating the impact of the closure.
A 300-strong Network Rail team has rebuilt the track at a cost of £35m.
Mr Marsden said: "What the region needs to do is put together a case for why the level of service it has is affecting business and why line outages are particularly problematic."
The track was swept away with part of the sea wall in early February, cutting off the service linking Cornwall and much of Devon with the rest of the UK.
Cornwall Council leader John Pollard said the reopening was "excellent news" but long-term solutions were needed to ensure there was a sustainable rail link.
"It is not acceptable for the main rail link to be shut for long periods of time and we look forward to seeing this commitment from the government," he said.