Derriford Hospital breaches 'stringent' superbug target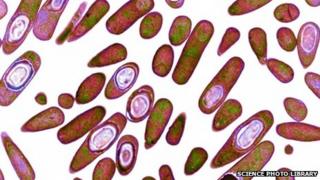 Cases of the superbug Clostridium difficile (C. diff) broke targets at Devon's biggest hospital, it has emerged.
Derriford Hospital in Plymouth had 34 cases against its target of 25, it was revealed in a report to the board.
The bacterial infection, which mostly affects people in hospitals, can cause severe and sometimes fatal diarrhoea.
The hospital trust said it was "disappointed", but its target was among the most stringent in the UK.
Infection rates had been reduced by 80%, from 160 since 2008/9.
Dr Peter Jenks, Derriford's director of infection prevention and control, said: "We have always had very low infection rates in Plymouth and the targets have always been set for continual improvement.
"Our target last year was far more stringent than most hospitals in the country."
He said there was an "extensive programme of work" to rid the hospital of infections such as C. diff, including training of staff.
"They are key, it is staff who go from patient to patient," he said.