Scissors stabber denies five-year stalking campaign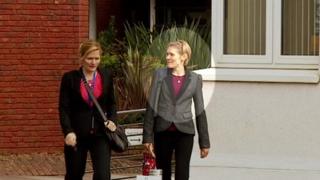 A man accused of attempted murder has denied a five-year stalking campaign of his alleged victim.
Joseph Willis, 49, from Exeter, admits causing grievous bodily harm to Helen Pearson but denies attempted murder.
Ms Pearson was stabbed in the neck with a pair of scissors near St Bartholomew's Cemetery, last October, Exeter Crown Court heard.
Previously, Ms Pearson said she had reported 125 incidents to Devon and Cornwall Police regarding stalking.
However, giving evidence on Friday, Mr Willis claimed he never sent her poison pen letters or made abusive calls.
He said: "I never sent any nasty letters to her or her parents. I did not make any of the calls or do any damage to her car or her bike or her home.
"I was worried she was getting the harassment and felt sorry for her and I said I would keep an eye out for her and tell the police if I saw anything."
The court heard that Mr Willis had planned to kill himself on the day of the attack.
He said he went to the flats where he used to live to say goodbye to friends when he saw Ms Pearson.
Mr Willis said she pulled out the scissors and attacked him.
He told the court he was in fear of his life when he stabbed her three times with the scissors and some of her wounds were caused accidentally as they grappled on the ground.
Mr Willis said: "Now I look upon it I think I did wrong.
"But I thought I was going to be really, really badly injured."
The court was previously told the accused sent poison pen letters to Ms Pearson's home branding her a "lying, evil girl" and warning her to "watch her back".
The trial continues.