Storm-hit Dawlish rail line compensation payout revealed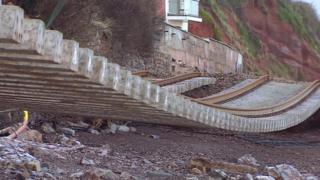 Compensation of up to £16m will be paid to train and freight operators following the destruction of the main railway line at Dawlish in the south-west of England.
Network Rail said the money would be paid because services could not run through Dawlish in Devon due to the damage caused by storms.
The track, which reopened on 4 April, was damaged in early February.
Network Rail said the figure was based on an assessment of "lost revenue".
A spokesman from Network Rail, which runs and maintains Britain's rail infrastructure, said the total was between £15-16m.
He said: "Normally, train operators pay Network Rail for the right to use the track. If they can't do that we have to compensate them."
First Great Western said the final compensation figure was "under discussion".
A spokesman said: "We recognise the figure and it is specific to Dawlish, but it is only one part of ongoing discussions with Network Rail.
"Discussions about compensation and additional costs to the business because of the closure of lines at Dawlish, Penzance, the Somerset Levels and Maidenhead are still ongoing and no decision has been made yet.
"We're working with other operators and Network Rail to understand the full costs."
First Great Western said the compensation for Dawlish would cover the additional replacement buses, and moving staff and trains to other locations following the disruption.
It added the money would also help pay for the 25% discount on tickets which was introduced for passengers intending to pass through Dawlish when the line was closed.
Last year, Network Rail announced it paid about £12.5m in compensation to train and freight operators after railway line flooding - described as the worst in a decade - closed the mainline near Exeter for 11 days in November and December 2012.
The figures, it said, could not be compared because Dawlish had been a "long-term issue" and compensation was subsequently calculated differently.