Volunteers clear Exeter dissenters' graveyard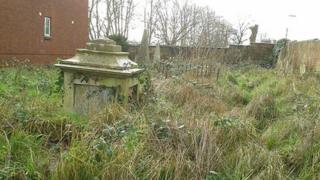 A Devon graveyard which holds the remains of 1,300 Protestant dissenters from the 18th Century is being cleaned up by volunteers.
Between 1747 and 1853, 1,300 Protestant dissenters were buried in the small plot in Exeter.
Exeter Dissenters Graveyard Trust bought the land in Magdalen Street in January from a private seller.
Rubbish has been now been cleared from the plot and volunteers have started cleaning and recording the monuments.
The dissenters were people who refused to take Anglican communion. As a result, they were forbidden from being buried in Anglican churchyards.
The Heritage Lottery Fund awarded the trust £7,900 to begin the renovation work.
Further money has come from the Council for British Archaeology, Devon Gardens Trust, Exeter Historic Buildings Trust and private donations.
The site will be open to the public later to see the work so far.