Jonathan Dimbleby in Totnes traffic change protest march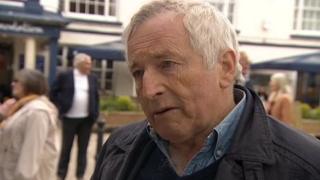 BBC presenter Jonathan Dimbleby has marched with protesters against traffic flow changes in a Devon town.
Campaigners in Totnes claim the changes have not reduced accidents while traders say they are losing about 20% of their business.
Mr Dimbleby said local shops were "the life blood of this community".
A Devon County Council spokesman said the traffic changes were introduced to "to address a pattern of injuries to pedestrians".
Mr Dimbleby, who attended the march in a personal capacity, said: "I don't normally do demonstrations because of my job, but I feel so strongly, I want to say to Devon County Council: 'Listen to Totnes'."
The council temporarily altered the layout a year ago, which traders claim has damaged their businesses.
Two-way traffic used to be allowed up part of the main high street but the changes reversed the previous system, bringing in alternative routes.
Trader Andrew Lampkin said the old system had worked for 40 years, "so why change it?".
One trader at the protest said businesses had been losing about a fifth of their trade as "people can't get into the town".
Businesswoman Annie Bowie said: "The fact that 74% of shopkeepers do not like the present system has been proved not only by a local architects' survey, but by other surveys undertaken by the Chamber of Commerce."
The protesters say Totnes Town Council has "repeatedly" voted for a reversal of the Experimental Traffic Order (ETO).
Speakers at the march included poet Matt Harvey and film director Peter Richardson.
A Devon County Council spokesman said: "The county council has encouraged traders and individuals to give their views and to provide information on the impact on trade.
"At their meeting on Friday, councillors will be presented with all of the feedback comments. They will then be able to balance the information in making their decision."