University of Exeter considers axing jobs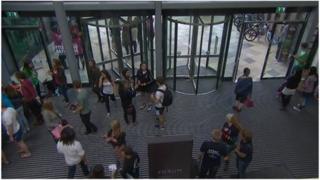 Consultation is under way into job losses at the University of Exeter.
The Devon university said it had been through "unprecedented growth" and had been affected by increased competition and the introduction of tuition fees.
Managers said the review was in its early stages and there were no plans for compulsory redundancies.
The university announced in 2011 that it would charge students £9,000 per year, the maximum level of tuition fees in England.
'Significant changes'
A university spokesperson said: "The University of Exeter has been through a period of unprecedented growth and success.
"This has resulted in being named Sunday Times University of the Year, joining the Russell Group, cementing our position in the top 10 in the UK and entering the top 150 institutions in the world.
"Now is the right time to review and reflect on the structures and skills we will need to ensure that we continue to thrive as an organisation.
"We have always been good at anticipating the future and need to carry on being long-sighted in our planning so we can continue to enjoy being part of a world class professional services team.
"This review is in its early stages."