Dredging fear for rare Devonport dockyard smelts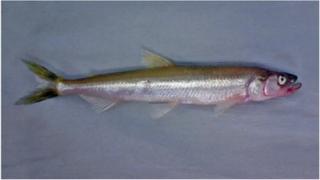 Dredging may have harmed rare fish in a protected area, say conservationists.
The River Tamar, around Devonport dockyard in Plymouth, was dredged during the spawning season for smelt in March.
Conservationists fear that the fish may have been affected by the dredging in the area, designated as a Marine Conservation Zone (MCZ).
Natural England, which monitors the dredging, said the smelt were likely to have been north of the area.
Environmental campaigner Julie Ellworthy said: "It's a very important issue because the smelt is a protected species but it's not being protected in our Tamar estuary."
Steve Hussey of Devon Wildlife Trust said: "The protection must have teeth and these places must be monitored so the protection is meaningful."
According to the Marine Management Organisation, the Tamar estuary is a nursery for smelt and many other fish species.
It said smelt had been included as a protected species within the Tamar Estuary MCZ because the smelt population was "depleted" and the importance of the area for their breeding.
MCZs protect a range of nationally important habitats and species under the Marine and Coastal Access Act 2009.