Football referee punched during Torre v Ashburton match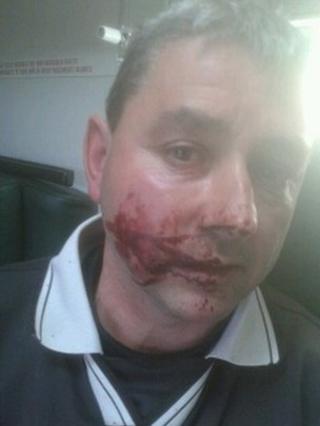 A football referee has been taken to hospital after being punched by a player during a match in Devon.
The player's team, Torre, has now withdrawn from the South Devon Football League following the abandonment of the match against Ashburton Reserves.
The referee, former mayor Councillor Donald Distin, was taken to Torbay Hospital with facial injuries.
A police spokesman said officers were called to the ground and no arrests have been made.
He said officers are still investigating the attack.
Mr Distin said he has had plenty of verbal abuse in the past but "nothing like this before".
He said: "They x-rayed me and I've got no cracked bones.
"I've got bruised eyes, I can't open one eye at all, it's completely shut. I've got a cut lip, and there's bruising coming out below my jaw line. I can't eat at the moment."
"It knocked me to the ground. I wasn't unconscious, but was a bit delirious.
"It took me 20 minutes to recover. The match was called off straight away."
He said the attack happened 35 minutes into the game.
Jamie Aylett, Torre manager, confirmed the player had used another name to play in Saturday's match after he had been sent off in a match on Thursday.
Mr Aylett said the club strongly apologises for Saturday's attack and the club did not condone the player's actions.
He said: "The club has withdrawn from the league because of this and it will fold.
"I'm getting lots of grief on football forums but this is one incident by a player who has let the whole league system down."