Devon twin sisters celebrate their 100th birthdays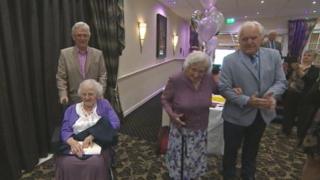 Twin sisters have celebrated their 100th birthday in north Devon.
Identical twins Doris - or Doll - and Freda Latham were born on 5 May 1914, two of six sisters.
The twins, who both still live in their own homes, were collected by a Rolls Royce and brought to a party held at the Barnstaple Hotel.
As well as receiving cards and presents from family and friends during the party, the pair also received birthday cards from the Queen.
Five generations of the family took part in the celebrations, including two of their sisters who are in their 90s.
Freda Latham said they had known beforehand that a party was being organised but that the day had been "more than I expected".
She said: "They're treating me like royalty."
She added neither her or her twin had known they were due to be collected by Rolls Royce.
Home-grown vegetables
"They kept that all secret," said Freda.
Doll said the party was "all marvellous - I didn't expect this".
When asked what the secret was to their long lives, Freda said it was down to home-grown vegetables.
She said: "We were brought up in the country and we didn't have much money.
"Mum always use to give us plenty of vegetables and that sort of thing, so I started in life well."