Sidmouth woman fined £80 for feeding birds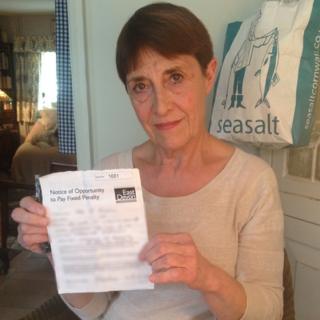 A woman has been fined £80 pounds for feeding birds in Sidmouth in Devon.
Rose Rodell was given a fixed penalty notice for littering peanuts while feeding pigeons.
The local authority says feeding birds attracts vermin and seagulls, which have been known to injure people while trying to get food.
Mrs Rodell told the BBC she will stop feeding the birds but says she will not pay the fine.
She had been feeding birds for three years before an enforcement officer issued the fixed penalty on Wednesday.
"I've never been told not to feed the birds," said Mrs Rodell.
"I've always been advised about the birds but not told not to."
The seagull problem in Sidmouth means East Devon Council now use a falconer to stop the birds nesting in built-up areas.
The council said it had already warned Mrs Rodell not to feed birds and in a statement said she was "well aware" of the issues.
"She even attended a Seagull Summit organised by the council last year, where she would have heard about the need to avoid feeding the birds," said the council.
"This makes them dependent on 'takeaway' food rather than living in their natural environment."