Protest held over Meadowlands Leisure Pool funding fears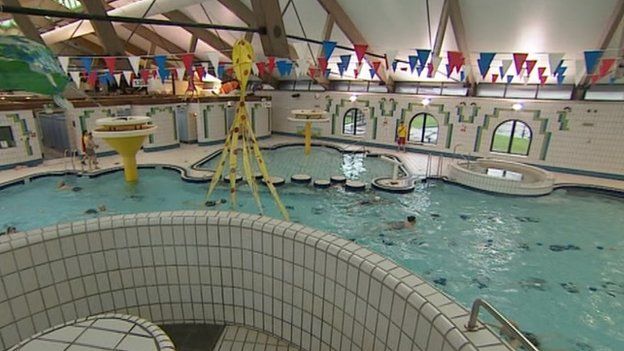 A protest has been held against the possible closure of a Devon swimming pool.
Campaigners fear government funding cuts could cause West Devon Borough Council to cut Meadowlands Leisure Pool's annual subsidy of about £150,000.
Users of the Tavistock pool said they were "appalled" at the possibility.
The council said no decision had been made and it was committed to keeping a swimming pool open in the town.
Pool user, Hugh McKenzie, said: "It's appalling the council is even thinking about it."
Campaigner, Jacquie Rushall, said: "If we are paying our council taxes the money should be spent on the pool.
"We care about the pool because of the number of leisure groups on offer.
"We want to tell councillors to save our pool."
About 40 campaigners lobbied councillors at a council meeting in Tavistock earlier.
In a statement, the authority said: "The council is keen to ensure a swimming facility open to the public is available in Tavistock for the foreseeable future so it has started examining a range of options to allow this to happen.
"There will be a formal public consultation before any significant changes are made and the whole council will be able to vote on the issue."
Previously, Phillip Sanders, leader of the council, said: "An estimate suggests that the building and equipment will require expenditure well in excess of £1m over the next 10 years."
Tavistock also has a swimming pool at Kelly College and proposals for an Olympic legacy swimming pool following London 2012 have been announced.
Meadowlands Leisure Pool, which is managed by Harpers Fitness, is in a building owned by the borough council, but on land leased from Tavistock Town Council.
Related Internet Links
The BBC is not responsible for the content of external sites.