Anti-begging messages sprayed on Exeter pavements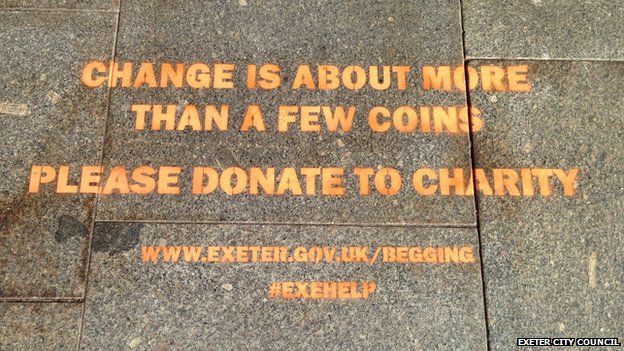 Messages aimed at stopping "aggressive and intimidating" begging have been sprayed on city centre pavements.
People in Exeter are being urged to give to charity instead of beggars as a crackdown on begging is launched.
Exeter City Council said it was working with Devon and Cornwall Police and the Bournemouth Church Housing Association on the project.
Police said they had received complaints about people "aggressively begging" in Exeter.
Biodegradable chalk has been used to write the stencilled messages.
Rob Hannaford, lead councillor for housing and customer access, said if the public realised emergency accommodation and food and drink was available for people on the street, they may consider donating to those charities instead of giving directly to beggars.
Insp Tanya Youngs, of Devon and Cornwall Police, said: "We are supporting this multi-agency initiative following requests from the local community to reduce the number of people asking for money on the streets."
David Morgan, of The Big Issue, said every vendor must sign a code of conduct before they were allowed to sell to the magazine.
"This campaign is about helping people out of a bad situation and encouraging them to take responsibility for their actions," he said.
David Shawyer, chairman of the Exeter city centre management partnership, also welcomed the campaign.
Related Internet Links
The BBC is not responsible for the content of external sites.