Inquest verdict in John Dudding penicillin death case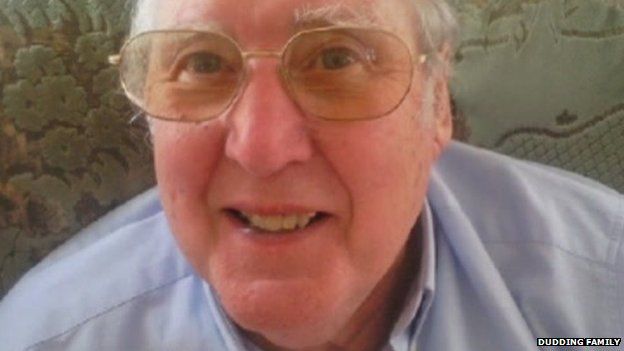 A pensioner who died after being given penicillin despite being allergic to it died from natural causes, an inquest has found.
John Dudding, 80, died at Derriford Hospital in Plymouth three days after being given the drug in February 2012.
Assistant coroner Andrew Cox found the drug error "should not have been made" but said it "did not cause or contribute" to Mr Dudding's death.
Mr Cox said the pensioner was an ill man nearing the end of his life.
A spokesman for Plymouth Hospitals NHS Trust said: "We would like to extend our condolences, once again, to Mr Dudding's family.
"His care wasn't as good as it should have been as a drug error was made. Our chief executive and chairman have met with Mr Dudding's family and apologised for this.
"As the coroner noted, this drug error did not cause or contribute to Mr Dudding's death.
"Notwithstanding this finding, we take these matters very seriously and are continually reviewing our practices to improve safety."
On Tuesday the inquest in Plymouth was told Mr Dudding was allergic to penicillin.
His allergy was recorded on his medical history but the doctor who prescribed it said the section on allergies had been covered up with a sticky note.
Mr Dudding, from Sutton in Plymouth, was admitted to hospital after suffering a fall at his home.
He was given a red wristband showing he had an allergy when he was admitted.
Derriford Hospital had previously admitted giving him penicillin was a "serious error".
The inquest heard Mr Dudding had significant kidney damage before having the antibiotic.
Related Internet Links
The BBC is not responsible for the content of external sites.