Devon marine to lead Prince Philip's birthday parade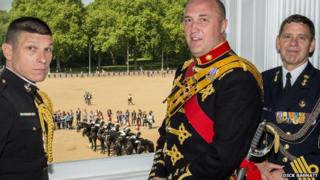 A Royal Marine from Devon will lead 468 servicemen in front of the Queen and Prince Philip in the final performance of a 34-year military career.
James Whitwham, from Ivybridge, will front the biggest ever Beating Retreat in London in June.
The bi-annual event will also feature musicians from the United States Marine Corps and the Royal Netherlands Marine Corp.
Warrant Officer Whitwham inspected Horse Guards Parade on Friday.
"To finish my career with the largest ever Beating Retreat on Horse Guards Parade with both Her Majesty the Queen and His Royal Highness Prince Philip present will be amazing," said Warrant Officer Whitwham.
"Having been the senior drum major on many high-profile ceremonial events, I consider myself a very lucky person.
"Whenever I wear my Royal Marines helmet, it is someone's special day."
Beating Retreat is performed every two years in celebration of the birthday of Prince Philip, Captain General of the Royal Marines.
This year's event also marks the 350th anniversary of the Royal Marines.