Complaints over 'bumpy' road outside Exeter church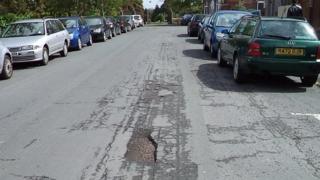 A road leading to a Devon cemetery has been labelled as "not acceptable".
People attending funerals at Higher Cemetery in Exeter have complained about the quality of the road leading up to the church on St Mark's Avenue.
Exeter councillor Richard Westlake of Devon County Council said the road is used as a "rat run".
A Devon County Council spokesman said: "We will inspect the site and repair any safety defects."
Mr Westlake said he had received complaints from people going to funerals, as well as from people who have seen funerals going by and witnessed the cars "bumping around".
"The county council don't see it as a priority road when it should be," he said.
"The road has got worse in the last three months and now it's like a car track.
"For people's final journey it's not acceptable."
David Albery, the owner and funeral director of Exeter and District Funeral Service, said: "The road service is very uneven. At the approach of a cemetery or crematorium it should be smooth and a serene environment, but it's not.
"The least you can offer is a smooth ride for someone's final resting place. It's very bumpy and really does need some attention."