Parracombe Primary School reopens after fire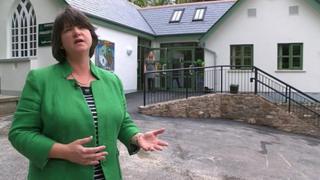 A north Devon school badly damaged by a fire nearly three years ago has officially reopened.
The blaze at Parracombe Primary School near Lynton in September 2011 damaged about three-quarters of the building.
Parents and pupils have been shown around the new school and teaching will resume in September, staff said.
Headteacher Jane Peacock described the day the fire broke out as "one of the most sickening days of my life".
She said: "I spent that day watching the school disintegrating in front of me".
Pupils are now "extremely excited" about the prospect of returning to the school, she added.
"They've had a look around the new building and it's amazing," Ms Peacock said.
"It's an an incredible learning environment for the children and they can't wait to get back and start enjoying school again."