Takeaway row sparked Exeter mental health unit arson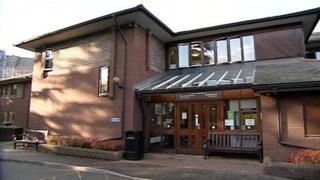 A patient carried out an arson attack at a psychiatric unit in Devon because was not allowed takeaway meals and fizzy drinks, a court has heard.
George Nott, 53, started the fire at the Cedars Unit in Exeter last August, causing the building to be evacuated.
Nott, from Black Dog, near Crediton, admitted arson at Exeter Magistrates' Court.
He was given a two-year conditional discharge and ordered to pay £3,289 in compensation and costs.
The fire was started in a toilet on a ward in the unit, near the Royal Devon and Exeter Hospital. It caused about £3,200 worth of damage, the court heard.
Nott, who has bipolar disorder and was a voluntary patient, was unhappy he could not have takeaways and fizzy drinks and accepted it was a "reckless act", his lawyer Jeremy Asher told the court.
Mr Asher said Nott had been fed up with staff and felt isolated but did not intend to injure anybody.
The Cedars Unit has two wards with 48 beds for male and female patients. It is operated by the Devon Partnership NHS Trust.