Girl, 12, dies in Exeter youth club wall fall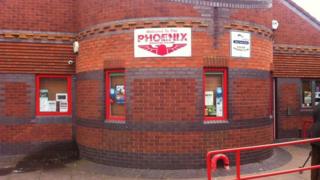 A 12-year-old girl has died after falling off a wall while at a youth club in Devon.
Police said emergency crews were called to the Phoenix Youth Club in Burnthouse Lane, Exeter, at 20:45 BST on Friday.
A Devon County Council spokesman said it was believed the girl hit her head after falling off the wall while watching a football game.
She was taken to the Royal Devon and Exeter Hospital but died from her injuries.
After the fall, she attempted to get up but collapsed moments later, the local authority spokesman added.
Some parents and youth club staff also tried to help before an ambulance arrived.
It is not known how high the wall is. Floral tributes have been left at the club.
Council cabinet member for youth services James McInness said: "This is a very difficult time for all concerned and my heart goes out to the family.
"It appears to have been a tragic accident and we are liaising closely with the police and will continue to cooperate fully with any investigations."
He added that counselling was being arranged for anyone at the club who had been affected by what happened.
Devon and Cornwall Police said an investigation was ongoing but no-one else was being sought in connection with the death.