Nicole Hartup: Tributes to girl after wall death fall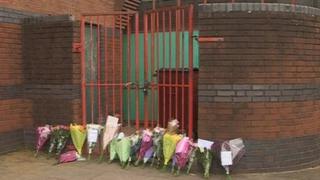 Tributes have been paid to a 12-year-old girl who died after falling from a wall at a youth centre in Devon.
Nicole Hartup died in hospital following the accident at the Phoenix Youth Club in Burnthouse Lane, Exeter, at about 20:45 BST on Friday.
Family and friends took to social media to pay tribute to Nicole, who they describe as a "gorgeous young lady".
A memorial event has been planned for Nicole, who was a student at Isca College of Media Arts in Exeter.
Sabina Denham, an aunt of the dead girl, wrote on Facebook: "My gorgeous, beautiful niece Nicole Hartup has gone to live with the angels.
"As everyone can imagine the family are absolutely devastated beyond words. Please respect our family's wishes while we are going through this awful grieving stage.
'Rest peacefully, babe'
"Nicole Hartup you are now your mum and dad's shining star xx xx R.I.P darling."
Another relative, William Lambshead, wrote: "My very very pretty niece is now playing with the angels and her new friends. Rest peacefully, babe."
A Devon County Council spokesman said it was believed the girl hit her head after falling off the wall while watching a football game.
A spokesman for Devon and Cornwall Police said: "The exact circumstances of this incident are still being investigated.
"At this time no other persons are being sought in connection with this."