Plymouth history centre earmarked lottery funding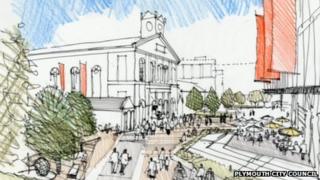 A new history centre for Plymouth has been earmarked nearly £13m of Heritage Lottery funding.
The £21m project will see Plymouth's existing museum refurbished and expanded and the nearby former St Luke's Church renovated.
The new centre will house existing collections from the museum and library as well as material from the South West Film and Television Archive.
Plymouth City Council said it was "absolutely thrilled" at the news.
The council has already committed £5m towards the centre.
Plans include uniting five separate heritage collections into one single location by refurbishing the listed buildings on North Hill in the city.
Councillor Peter Smith, the deputy leader of the council, said: "We are absolutely thrilled the HLF (Heritage Lottery funding) has recognised the importance of Plymouth's fantastic heritage with such a large investment, which we believe is a record amount for the city.
"We can now create a major new visitor attraction that will proudly tell the stories of the city's legends and heroes, like Drake, Scott and Reynolds who helped shape the modern world."
Nerys Watts, the head of HLF South West, said: "These exciting and visionary proposals are the first step towards developing a new and much-needed Plymouth History Centre.
"They will showcase a host of wonderful artefacts, photographs, films and records, which will now be safely housed in one place, for both local residents and visitors to explore."
The council said it would be holding more consultation with local people to gather ideas and feedback that would be used as part of the development phase.
The planned opening date for the centre is by 2019, the council said.