Drake's Victorian park refurbished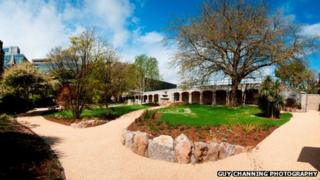 Work to restore a Victorian park that once housed the main water supply for Plymouth has been completed.
The early 19th Century reservoir and gardens have undergone a five month refurbishment.
Plymouth University was awarded £601,600 of lottery funding to carry out the work.
As part of the project, a new entrance has been created, the fountains in the reservoir reinstated and a stream added which will run through the gardens.
The restoration work, which began in December 2013, has been led by Truro-based Cornwall Environmental Consultants Ltd.
Win Scutt, of Plymouth University, said: "The restoration of Drake's Place has always been an ambitious project, but the end result is truly stunning."
Drake's Place stretches back to 1592, when Sir Francis Drake oversaw the construction of a channel that brought water from Dartmoor to Plymouth.
The reservoir dates back to 1820, while the gardens were laid out in 1891.
The park will opened to the public in June.