Purpose built cycle track opens in Torbay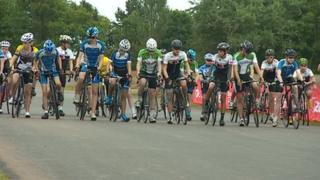 South-west England's first purpose built professional cycle track has opened in Torbay.
The circuit at Clennon Valley, Paignton was the centre piece of the bay's first ever cycling festival on Sunday.
Torbay Council borrowed £780,000 to build the closed-road circuit after councillors agreed the funding last May.
British Cycling, the governing body of the sport, also put money into the project.
Hundreds of cyclist attended the festival to race at the new facility.
Councillor Robert Excell, Torbay Council's executive lead for sport, said: "This regional centre for cycling is a great addition to Torbay's sporting infrastructure.
"It really puts us on the map for cycling development as well as creating an exciting new facility for visitors and residents of Torbay who just want to come along and have fun."