Union tries to block postman reinstatement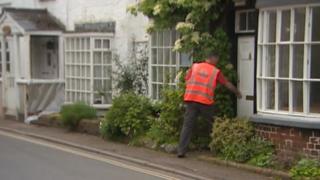 A union is trying to block the reinstatement of a Devon village postman who was given his job back following a campaign by residents.
Ray Cope was due to leave Lympstone after 17 years, with a longer-serving colleague due to replace him.
But Mr Cope was reinstated in a move the Communication Workers Union said breaks an agreement with the company.
Royal Mail policy allows the worker with the longest service to choose their preferred route.
'Dangerous precedent'
Posters supporting Mr Cope appeared in the village and several residents wrote to the Royal Mail.
The company backed down on Wednesday and said Mr Cope would "remain on his normal duty".
But Chris Webb from the union said: "What we can't have is a community or group of residents rewriting a nationally agreed policy.
"If we allow a... very dangerous precedent to be set that is a problem.
"We love the rapport our customers have with our postmen but they cannot determine our internal policies."
The Royal Mail said: "When changes to our operation become necessary, we allocate routes based on seniority.
"This is agreed between Royal Mail and the Communication Workers Union, who represent our employees. Royal Mail is committed to this agreement.
"We wish to reiterate that we fully understand our customers' concerns, and recognise how important long-serving postmen and women are to the communities they serve."
East Devon councillor Ben Ingham said: "Ray Cope has served our community for 17 years. He has not let us down and we don't want to let him down."
He said the agreement between the Royal Mail and the union was "set up for all the right reasons, but it has caused a problem and my suggestion is to have another think about it".
The Royal Mail is due to meet the union later.
Mr Cope has not spoken out about the decision, and the postman due to replace him has not been named.