Heads 'campaign to close Devon Route 39 free school'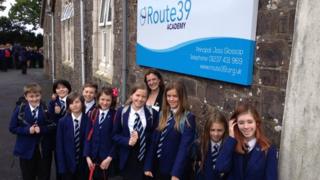 A free school head teacher is accusing other local head teachers of campaigning to close her academy.
Joss Glossop, principal of the Route 39 Academy in north Devon, said her students were also being excluded from sports competitions and activities.
She blamed the Northern Devon Academic Board (Nordab), an association of the area's 13 secondary heads.
Nordab said Route 39 was "poaching" students, but it was was "not trying to undermine Route 39."
Free schools are independent and paid for by central government, not local authorities as with other state schools.
Secondary school Route 39, at Higher Clovelly near Bideford, opened last year and is one of three free schools in Devon.
It has about 60 pupils and eight teachers and is predicting 100 pupils by September.
Ms Glossop said a "couple" of parents had already taken their children out of the school as a result of a letter from Nordab in the local press criticising the school.
She said: "It appears that Nordab is trying to close the school.
"We have 60 students here who are happy and thriving and it seems to dismiss that out of hand in preference to a campaign to close the school.
"I find that disgusting and highly unprofessional."
She said that the refusal by Nordab to allow the school to join sports activities had made it "awkward".
"We collaborate with other schools further afield," she said.
"In an area like north Devon it would be preferable to work with schools that are closer to us."
Ms Glossop rejected the claim about poaching students.
She said: "The important thing for every child whether they are with us or at any other school is that they are in the right place for them.
"They will then thrive."
Nordab spokesman David Fitzsimmons, head of Holsworthy College, said Route 39 was "a waste of public money" and "not needed".
He confirmed that members of Nordab had agreed not to co-operate with Route 39 on sports and other activities.
"Nordab is about mutual co-operation, not poaching pupils from other schools," he said.
"That's why we are frustrated on the one hand with what Route 39 are doing.
"But our main argument is that the money would be better spent on all of the children in Devon rather than just on the minority of children in an area where another secondary school isn't needed."
The Department for Education said: "Like all free schools, Route 39 Academy was set up because there was local demand. Just a year after opening, the school is already proving to be very popular with parents with a 70% rise in applications for places this year.
"Free schools are so far outperforming other schools inspected under the new and more rigorous Ofsted framework. They are much more likely to be rated 'outstanding' than other schools, and we are determined to build on this progress as the programme continues."