Exeter Cathedral trouser drop and punch man jailed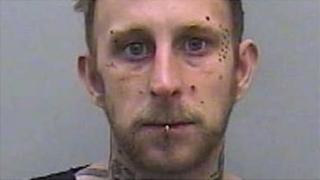 A man who dropped his trousers in Exeter Cathedral and punched a 70-year-old woman in the face has been jailed.
Nicholas Courtney, 34, also damaged an altar crucifix during the rampage in February, Exeter Crown Court heard.
Judge Jeremy Griggs said his behaviour was "quite incomprehensible".
Courtney, from Smythen Street, Exeter, Devon, admitted causing grievous bodily harm and criminal damage and was jailed for 26 months.
Legal highs
Defence lawyer Jeremy Harris said Courtney had taken legal highs as he self-medicated but he was not mentally ill or impaired.
He said: "Courtney went to the cathedral to offer himself to God. He is appalled for what he did. He said they were despicable actions."
The court heard he went up to a donation box and put some money on it before pulling down his trousers.
Officials tried to intervene but Courtney jumped over a roped-off area and went up to the high altar.
Guided tours and members of the public were in the cathedral at the time and staff were left "outraged" at his actions, said prosecutor Nigel Wraith.
He knocked two candlesticks and a crucifix to the ground before hugging a verger and being escorted out, the court heard.
'Society appalled'
Outside the main entrance, Courtney punched the woman.
The force of the blow knocked her to the ground, breaking her wrist, the court was told.
The court heard the woman was having chemotherapy for cancer and was terminally ill.
She said the attack had been "very upsetting and traumatic".
Sentencing, Judge Jeremy Griggs said: "Society is appalled by what you did on that occasion."
He said people who go to the cathedral were "entitled to peace and tranquillity" and Courtney's behaviour was "outrageous to Christians and others using it".
"Your behaviour that day was quite incomprehensible," he added.