Buckland Abbey Rembrandt self-portrait is genuine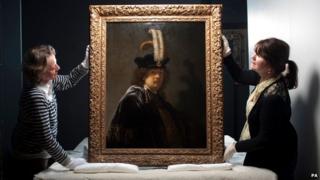 A painting gifted to the National Trust has been verified as a genuine Rembrandt estimated to be worth £30m.
The self-portrait, which hangs in Devon's Buckland Abbey, had been the subject of debate over its authenticity, since 1968.
Eight months of investigative work at the Hamilton Kerr Institute (HKI) confirmed it was painted by Rembrandt.
The National Trust said extra security measures had been put in place as well as a specially created gallery.
Its authenticity had been thrown into doubt by Rembrandt specialist Horst Gerson and the Rembrandt Research Project.
They felt that certain areas of the painting were not accomplished enough to be a Rembrandt.
However, in 2005 Ernst van de Wetering, one of the experts who questioned its authenticity 46 years ago, concluded the painting could be genuine.
David Taylor, paintings and sculptures curator at the National Trust, said: "The debate over whether this is or isn't a Rembrandt has been on-going for decades.
"It's now much easier to appreciate it as a Rembrandt."
The painting was acquired by the National Trust in September 2010 as a gift from the estate of the late Lady Samuel of Wych Cross.
It was previously owned by the Princes of Liechtenstein.
Christine Slottvedd Kimbriel, the paintings conservator at HKI, said: "The self-portrait went through a series of investigate analyses to include close visual examination under magnification, infra-red reflectography, x-radiography, raking light photography and pigment and medium analysis.
"Careful cleaning and removal of several layers of aged and yellowed varnish which had been added to the painting much later, revealed the original colours and painting style beneath."
A close investigation of the artist's signature confirmed it was added "at the time of execution of the painting", the HKI concluded.
A new exhibition, called Rembrandt Revealed and telling the story of the painting, will open at Buckland Abbey on 13 June.