Lympstone postman replaced after Royal Mail's second U-turn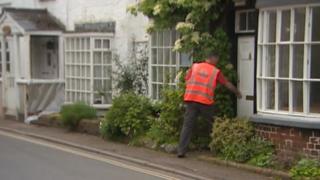 A postman will be replaced despite villagers in Devon campaigning for him to stay, Royal Mail says.
The company had overturned its decision to replace Ray Cope, who has worked in Lympstone for 17 years.
But, now the firm has reverted back to its original plan to replace him with another staff member with a longer service record, under a national union agreement.
The Communication Workers Union (CWU) said the "right thing had been done".
After finding out Mr Cope was to be replaced, several residents wrote to Royal Mail and posters supporting him appeared in the village.
The company had backed down last week, saying Mr Cope would "remain on his normal duty".
But the CWU said it wanted to block the move, because it believed a community or group should not be able to rewrite "a nationally agreed policy".
Under the policy, Royal Mail can allow workers with the longest service to choose their preferred route.
In a second U-turn, Royal Mail spokesperson Mike Norman confirmed a new person would take over the route from 7 July.
He said: "The procedures we have in place for handling changes to our operation are agreed with the Communication Workers Union.
"We are pleased that Ray is so well-respected by the residents of Lympstone and we are confident that their new post person will quickly earn the same respect and trust within the community."
Chris Webb, of the CWU, said: "The right thing has been done in line with the national agreement and union policy and 99% of personal at the sorting office agree.
"We've simply seen a mistake by an individual manager and it's all been blown out of proportion with every twist and turn publicised."
Mr Cope has not spoken about the decision. His replacement has not yet been named.