Dartmoor rooftop prisoners offered sun cream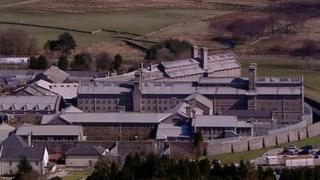 Staff at a Devon prison offered sun cream to inmates who managed to climb on to a rooftop, the Ministry of Justice (MoJ) has confirmed.
The two prisoners managed to scale the roof of Dartmoor Prison during sunny weather on 19 June.
The MoJ said sun cream was offered as part of a duty of care but declined by the prisoners.
Prisons Minister Jeremy Wright said he had ordered an "immediate review" of the incident.
He said: "This should not have happened. There should be no policies in place which promote this kind of foolishness and I have ordered an immediate review of this incident to ensure that it does not happen again."
John Hancock, from the Prison Officers' Association in the south west, said it was "absolutely ludicrous".
It is not known which of the prison's buildings was scaled, but some structures on the site, in Princetown, exceed five storeys and have steeply sloping roofs.
The offer of sun cream was a standard procedure as part of the jail's duty of care, the MoJ said.
There were no injuries and it is not clear why the men climbed on to the roof.
Mr Hancock said it was "absolutely ludicrous that inmates are being molly coddled".
He said: "They shouldn't have been up there in the first place.
"It's only going to encourage other inmates to get on the roofs and expect sun cream, and possibly cold drinks and ice creams as well."
An MoJ spokesman said: "On Thursday 19 June, there was an incident at height at HMP Dartmoor involving two prisoners.
"The incident was successfully resolved by negotiation at 16:28 BST. No staff or prisoners were injured."
The MoJ later added that the sun cream was only discussed as a negotiation tactic.
The prison, currently able to hold 659 inmates, was originally built in 1809 to hold French and American prisoners of war.