RAF death family call for further investigation into man's crushing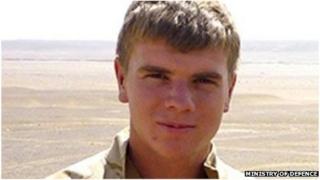 The family of an RAF serviceman from Devon crushed to death by an armoured vehicle in Afghanistan are calling for a new investigation into his death.
RAF Senior Aircraftman Kinikki Griffiths, 20, from Exmouth, died in Helmand Province on 16 July 2010.
He was killed by a Jackal vehicle with defective brakes operated by an unqualified driver, a coroner ruled.
His father, Nick Griffiths, said more work was needed to ensure people were "properly held to account".
An inquest in County Hall in Exeter was told that SAC Griffiths was underneath the six-and-a-half-tonne vehicle to check a fluid leak.
It heard that Cpl William Wortley, who was in charge of the vehicle's machine gun, did not have a full driving licence and should not have been driving.
In a narrative verdict, Coroner Elizabeth Earland said she would would write to the MoD to ask it to review training methods for commanders, drivers and maintenance staff.
Brake failure also contributed to the death, she said.
Mr Griffiths said: "We call up on the RAF to reopen the investigation into what happened so that those who may have been responsible are properly held to account.
"We have learned of a number of failures, of orders being breached and a vehicle driven by people not trained to do so."
Speaking after the inquest, Group Captain Scott Miller, of the RAF Regiment, said the service had made and would continue to make every effort to learn from any incidents "to make sure we do not see accidents like this happening in the future".
Paying tribute to SAC Griffiths, Mr Griffiths said he was "our son, our brother, our hero, forever in our hearts."