Fingle Woods purchase completed by National Trust and Woodland Trust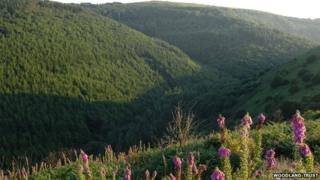 Conservation charities have bought the last remaining section of an ancient woodland on Dartmoor.
The Woodland Trust and National Trust raised £3.8m to buy Fingle Woods which has existed between Castle Drogo and Steps Bridge since at least 1600.
The two charities hope to raise a further £1.2m to encourage a greater variety of wildlife in the woods.
They aim to do this by reducing the number of conifers to allow the woodland to regenerate.
That will make the area more hospitable to species like the pied flycatcher, redstart, and fritillary butterflies.
The trusts bought the 800-acre (323 hectare) woodland in sections, completing the purchase thanks to £845,000 from landfill taxes paid by waste firm Viridor.
The firm pays part of its taxes to the Landfill Communities Fund which gives money to environmental organisations.
Beccy Speight, Woodland Trust chief executive, said: "This is a landmark project between two of the country's leading conservation organisations and we've received fantastic support to make the purchase of Fingle Woods a reality.
"There is still a long way to go restoring the woods so we need further financial support, but in the meantime we'd encourage people to come and see the site for themselves and be inspired."