Plymouth University staff cut as spending rises £2.1m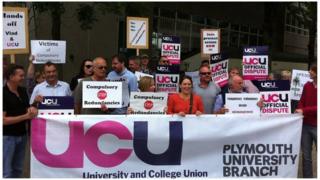 Lecturers say they are angry about a £2.1m rise in spending on consultants and marketing by Plymouth University while seven staff face redundancy.
University accounts show spending on consultants rose from £4.7m to £5.9m between 2012 and 2013.
Spending on advertising and marketing also rose from £2m to £2.9m.
One union said there was "no need" for the job losses. The university said it had done "everything possible to mitigate compulsory redundancies".
The university revealed plans in 2012 to cut up to 100 academic jobs over the following three years.
The university, which employs about 3,000 staff, plans to cut its £200m annual budget by about 2% each year.
The University and College Union (UCU), which is holding a protest at the university, said the institution should look to other areas to make savings rather than lose staff.
It also pointed out that the university's "other expenses" had risen from £6.7m to £10.3m from 2012 to 2013 and the travel bill had risen by £800,000.
UCU regional official Philippa Davey said: "The university must reconsider its priorities.
"If the university thinks it needs more savings after the recent redundancy round it should look at increased travel expenses, the tens of thousands of pounds spent on consultancy fees."
The university said its "academic and research review" which led to the redundancies had been prompted by higher education reforms.
It said the changes had been "informed by a full and detailed analysis of student demand, satisfaction and employability" and subject to a formal consultation process.
It also said it wanted to reduce the number of redundancies "if at all possible".